MOTIVATION

The reason why I make music is expressing and experiencing emotions.
There is so much power in music and this inner urge, this energy that I need to express myself. My aim is to let the audience feel the same deep feelings through the drums, which I have, while I am playing.
This is also my motivation in studying and exploring more the drums and band playing. Already as a child I was fascinated by the sounds and rhythms I was surrounded of, because of the musical background of my family, and for me this exploring is a neverending story, where you still have to be a child.
But the social aspect is even more important to me. Making music together builds up a very strong connection and energy, which is for me the most fun part in music: Communication with the other musicians.

Von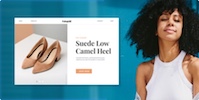 Erstellen Sie mithilfe anpassbarer Vorlagen Ihre eigene, einzigartige Webseite.